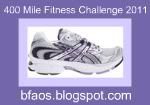 I so need this one and I love how Ellie has it set up. This is a year-long challenge so head to the
Sign-up post
to check out all the details then join us.
Now to figure out how I want to update.....new page weekly, monthly, update here.....
365 - Sundays /400 miles = less than 1 mile a day!
What counts:
mile for mile-walking/jogging/running outside or inside on a treadmill, biking outside or inside on a recumbent, spin or stationary bike. WATP Mile DVD's: 1 mile walk, 2 mile walk etc.
15 min. equals 1 mile-
cardio, step aerobics, swimming, weight lifting, workout videos, exercise classes
Minutes and miles can roll over:
If you only walk for 3/4 mile, or exercise for 10 minutes, you can add those minutes/minutes to the next day.
Want to join me and get fit in 2011? We can do it!!
UPDATE: Shanae at
Triumph and Tears
is our new host!
May: I have been working out, just wish I would do it more often and remember to tell you about it :( I've added the challenge button to link back here, maybe it will be a reminder?
copyright Book Dragon's Lair 2009-2011