Hosted by Robin of My Two Blessings at
52 Books in 52 Weeks
,
more info
here
Challenge yourself to read books alphabetically by Title and/or by Author. Have fun searching out those difficult letters. For titles, the letter doesn't have to be the starting word. It can be any word in the title, but to make it more challenging try to find one that starts with the letter. This year I am making a bit more challenging by discounting any book that started with THE. For authors, it can be their first name or last name. Have fun with it and be creative.

A to Z by Title - Commit to 26 Books
A to Z by Author - Commit to 26 Books
A to Z by Title and Author - Commit to 52 Books
You may have noticed, I'm committing to titles. THE, A, AN, AND don't count (unless it's a title like "And Then You Die".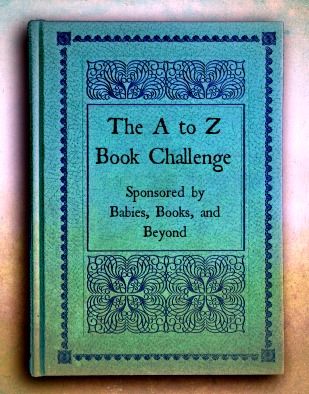 May 22: Babies, Books, and Beyond is also doing an A to Z challenge. I thought I'd sign up so others can look at my list ;-)
Sign-ups are
here
A. A Lady Risks All by Stephanie Laurens
B. Spits and Bellows by Joyee Flynn
C. What Chris Wants by Lori Foster
D. To Tame a Dragon by Megan Bryce
E. The Edge of Desire by Stephanie Laurens
F. A Fool's Gold Christmas by Susan Mallery
G. It's Not Easy Being Green by Jim Henson
H. Chaps and Hope by Bailey Bradford
I. It's a Good Life by Carol Lynne
J. Just One Kiss by Susan Mallery
K. Lock and Key by Sasha Devlin
L. Mastered by Love by Stephanie Laurens
M. The Missing Monarch by Rachelle McCalla
N. Never Less Than a Lady by Mary Jo Putney
O. Working It Out by Sean Michael
P. Frozen Prospects by Dean Murray
Q. Quinn's Hart by Cassandra Gold
R. The Runaway Shopping Cart by Kathy Long
S. Savor the Danger by Lori Foster
T. Trace the Fever by Lori Foster
U. They Walk Among Us by T. A. Chase
V. A Timely Vision by Joyce and Jim Lavene
W. Wicked Gift by Sean Michael
X. Mission: X by Kim Alan
Y. When You Dare by Lori Foster
Z. Zall's Captain by Amber Kell
copyright Book Dragon's Lair 2009-2012